Books like friends should be few and well chosen – Samuel Johnson
Grateful to all of you for the feedback on the previous blog where I laid bare my inability to tackle my book mess. There's been a time lapse between the last blog on my bookish problems and the utter lack of emotional judgment in organizing them – and this post. Nevertheless, I'm back with GoodBooksBadBooks.
Covid 19 and Lockdown have been great tutors of refocus, selection and prioritization – like a sieve separates the necessary and unnecessary, we learnt to sift. My cupboards that were full of books have been repurposed for other storage – like months of food supply. And the reading habit has largely shifted to e-books. The bookshelf henceforth, thus will be for books few and well-chosen – as the opening quote hints.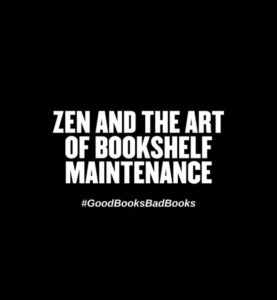 Shelf-love
A neat and clean bookshelf with my everyday books – that is what I have achieved during the last several weeks. What goes there? Some daily spiritual books, some uplifting comic books and a few authors I have a mental relationship with and turn to every now and then. In short – the good books and the great books go on the shelf. That's my easy selflove for the reading department.
Off Shelf
What goes off the shelf then? Quick references, to-do books, self-help books or stuff that you can read quickly in an hour – stuff that henceforth can be read off-screen; or even listened to via audio books.
The lockdown has been a great bookshelf organizing tutor and I have possibly read more or heard more because there were no bookshops to go to.
Freedom
Most tech-based platforms dealing in books these days give away free books or a part of a book free, so you can decide whether you want to go beyond a couple of pages. Some books you will get absolutely free if you are subscribed to a platform. The beauty of e-books is the amount you can read free. E-books are tasters and help you get acquainted with an author and give you enough space to grasp a style or narrative before you decide to part with your money to get a paperback.
Detach
Needless to say, books become a part of your bookshelf first, then your living space, then your life. You can't bear the thought of parting with them – they become your extensions like an arm and a leg. You move cities with your books and your books outlive you, they become heirlooms. It is great if your children and grandchildren acquire your taste in books, else they become showpieces and wall décor and more. Clearly – what deserves your wall space, your attention and dusting time are your good books – the heirloom books. What deserves to be read off screen? The mediocre ones, the free ones, the bad ones, the not so good ones, the temporary ones.
Hybrid Reading
Books like newspapers, magazines, movies everything is now up for a hybrid existence – the game changer is how you want to consume it – what you give space to what you give time to, what you give both to, and what you give none. Some people are still refusing to come on board on the screen for reading – but my guess is it is only a matter of time before they make a shift.
Zen and the Art of Bookshelf Maintenance: Empty first then fill.
That's my bookshelf policy for now. Be detached – keep it light, pick your books mindfully – assimilate, circulate, giveaway, refresh – keep on reading and also keep growing out of your books.
Tome much
This much is sure, unlike how I came from Kolkata to Delhi 15 years ago, with a giant suitcase of books – I won't be leaving Delhi for anywhere else with a suitcase of books. I plan to reduce my real books to just 25 over a period of time – the rest all go on the screen. I only gain and lose nothing because you don't have to give up anything because your screen contains everything.
The Unchuckable
The ones you keep back? The prized, the unchuckables? Check on them often. Organise. There are over 30 different bookshelf organizing plans on Google at any given time. Take any that you like. Be it as a fantastic background for your video conference, or at your little reading nook – but the most important part of having books in your living environment is – to integrate, to assimilate.
Anytime, better be a bibliophile than a bibliomaniac.
DISCLAIMER : Views expressed above are the author's own.