India's COVID-19 growth rate is seen soaring extremely high. It has touched 4x rise vis-a-vis the global average rate. Yesterday on 20th August, 2020, India saw biggest single-day spike to nearly 70k coronavirus cases. India is currently the third-most-affected country in the world for COVID-19 and the curve is disproportionately moving up. The death toll in India reached 53,866 with 977 fatalities being reported in one single day.
In a comparative study conducted by Knowledgetics Research, a Gurugram based business research firm; India's COVID-19 growth rate is seen touching 741.5% as against the global average of 179.1%. This data is based on 2 months' timeframe from June 4 to August 4, 2020. It further shows that within the last two weeks (i.e. August 4 to August 20) the growth rate has more than doubled in India in comparison to the global rate.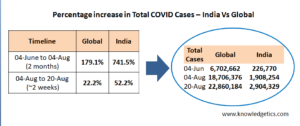 India has climbed from 7th position to 3rd in the 'MOST UNWANTED LIST OF 2020'. The top 3 States that has contributed the maximum to help India reach such a dismal status are Maharashtra, Tamil Nadu and Andhra Pradesh.
In fact, the Top 5 states of India constitute of more than 60% of total cases and top 10 accounts for over 80% of coronavirus cases in the country.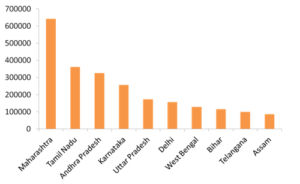 The Global Scenario
At the global level, though USA is still topping the Chart with a 16.8% growth rate of COVID cases; India is seen in a hurry to jump the chart with a growth rate of 52.2% which is one of the highest amidst top 10 counties.
The good news is for countries like UK, Italy, Germany and Turkey who were at number 5, 6, 8 and 10 in top 10 list as on 4th June, 2020; all of them have re-sliced the pie by moving out of the Top 10 race.
While Brazil is steady at number 2 position, Spain has slipped from 4th to 9th. The new entrants to the most unwanted list of 2020 are South Africa, Mexico, Chile and Colombia. The given chart sums up the numbers and growth percentage of the Top 10 countries.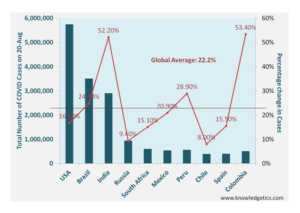 The undenying fact that is evident from these charts and graphs is that India's traditional neglect of public healthcare is proving to be a long scar in the fight against the current pandemic. An evidence of this imminent danger is depicted in rate of 4x that speaks volumes about it. Our country still has not been able to figure out a robust system to take care of the towering growth of COVID-19 cases and people have become complacent by calling this a new normal. Is it a right decision to accept the current state that eventually can have an alarming effect in a densely populated country like ours? I leave this to my readers to think!
DISCLAIMER : Views expressed above are the author's own.
tinyurlis.gdv.gdv.htclck.ruulvis.netshrtco.detny.im
آموزش سئو