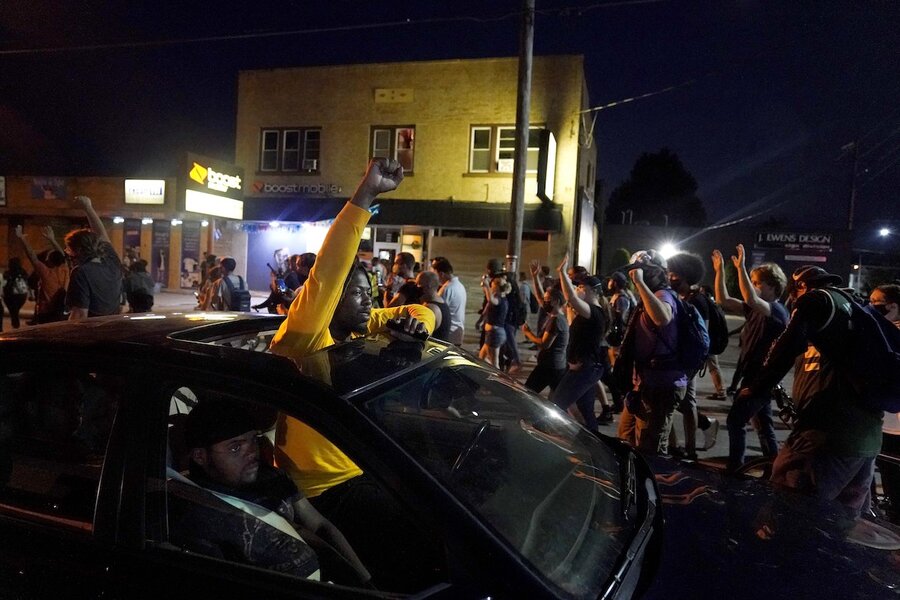 Kenosha, Wis.
Protests in Kenosha over the police shooting of a Black man, Jacob Blake, were mostly peaceful following the arrest of a 17-year-old police admirer accused of killing two people and wounding a third during a chaotic night of demonstrations and unrest.
As of early Thursday, there were no groups patrolling with long guns as there were during previous nights of protests over the Sunday shooting of Mr. Blake, who was left paralyzed. Protesters also stayed away from a courthouse that had been the site of standoffs with law enforcement.
Kyle Rittenhouse, of Antioch, Illinois, about 15 miles from Kenosha, was taken into custody on Wednesday in Illinois on suspicion of first-degree intentional homicide in shootings late Tuesday that were largely captured on cellphone video.
"I just killed somebody," the gunman, carrying a semi-automatic rifle, could be heard saying at one point while jogging away from a man who had just been fatally shot in the head.
In the wake of the killings, Wisconsin Gov. Tony Evers authorized the deployment of 500 members of the National Guard to Kenosha, doubling the number of troops in the city of 100,000 midway between Milwaukee and Chicago. The governor's office said he is working with other states to bring in additional National Guard members and law officers. Authorities also announced a 7 p.m. curfew, though protesters ignored it again Wednesday.
Protesters marched past the intersection where two people were shot Tuesday night, stopping to gather around the spot where one person was shot, and to pray and lay flowers. Daijon Spann said he decided to join the demonstration because one of those killed the night before was a friend.
"I couldn't take it any more," he said. "I couldn't just sit there and watch my friend die."
Mr. Evers, a Democrat, issued a statement asking those who wanted to exercise their First Amendment rights to "please do so peacefully and safely" and urging others to "please stay home and let local first responders, law enforcement, and members of the Wisconsin National Guard do their jobs."
"A senseless tragedy like this cannot happen again," Mr. Evers said.
In Washington, the Justice Department said it is sending in more than 200 federal agents from the FBI, U.S. Marshals Service, and the Bureau of Alcohol, Tobacco, Firearms and Explosives. The White House said up to 2,000 National Guard troops would be made available.
The Justice Department also announced that the U.S. attorney's office and FBI would conduct a civil rights investigation into the shooting of Mr. Blake, in cooperation with Wisconsin state law enforcement agencies.
The two people killed late Tuesday were identified only as a 26-year-old Silver Lake, Wisconsin, resident and a 36-year-old from Kenosha. The wounded person, a 36-year-old from West Allis, Wisconsin, was expected to survive, police said.
"We were all chanting 'Black lives matter' at the gas station and then we heard, boom, boom, and I told my friend, 'That's not fireworks,'" protester Devin Scott told the Chicago Tribune. "And then this guy with this huge gun runs by us in the middle of the street and people are yelling, 'He shot someone! He shot someone!' And everyone is trying to fight the guy, chasing him, and then he started shooting again."
Mr. Scott said he cradled a victim in his arms, and a woman started performing CPR, but "I don't think he made it."
According to witness accounts and video footage, police apparently let the gunman walk past them and leave the scene with a rifle over his shoulder and his hands in the air as members of the crowd were yelling for him to be arrested because he had shot people.
As for how the gunman managed to slip away, Sheriff David Beth described a chaotic, high-stress scene, with lots of radio traffic and people screaming, chanting, and running – conditions he said can cause "tunnel vision" among law officers.
Mr. Rittenhouse was assigned a public defender in Illinois for a hearing Friday on his transfer to Wisconsin. The public defender's office had no comment. Under Wisconsin law, anyone 17 or older is treated as an adult in the criminal justice system.
…
tinyurlis.gdv.gdv.htclck.ruulvis.netshrtco.detny.im
آموزش سئو