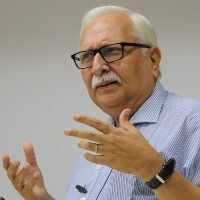 Over the past five months of the corona virus pandemic and attendant lockdown since March 24, many media reports have highlighted extensive relief provided by civil society and NGOs. The forms of assistance and relief provided have been varied…ration, cooked meals, water, sanitiser/soap, mask/PPE, etc. etc.
When millions of migrant workers began to walk back to their homes, relief to them on the highways included not just food and water, but also some cash, shoes & chappals, and recharging of mobile phones.
It is estimated that this relief and immediate assistance reached more than five lakh villages and five thousand towns, throughout the length and breadth of the country. Senior government officials from NITI Aayog and various ministers, including the Prime Minister, recognised and lauded such extensive and sustained support provided by civil society. Even the Supreme Court and several High Courts expressed appreciation of the spontaneous and committed support extended by NGOs and civil society.
How did civil society organisations reach out to households needing assistance and relief rapidly and spontaneously during the sudden lockdown? Physical mobility restricted movement of government functionaries as well. In addition, the suddenness of complete lockdown created fear and panic amongst all sections of society. Even middle-class households could not store enough food, medicine or other supplies. Those away from home in schools, colleges and work-places, felt stranded, without preparation.
From remote tribal hamlets in Odisha and Chhattisgarh to invisible informal settlements in and around cities and industrial estates of Maharashtra and Tamilnadu, how did civil society manage to reach out immediately to provide awareness, relief and health services?
The clue to this puzzle is in local community leadership. Civil society organisations have been investing in building local leadership in communities, especially in tribal and scheduled caste rural hamlets.
In urban centres, civil society has worked with construction workers, domestic maids, street vendors, sanitation workers, and other informal workers to build leadership of women and youth. This investment in local community organisations and local leadership has been a sustained and integral part of the strategy of most civil society organisations since 1970s as they focused on nurturing local participation and empowerment of the excluded and the marginalised households.
One of the most widespread illustrations of the above is the movement of self-help groups (SHGs) in the country. Started by NGOs in early 1970s, mainstreamed in many public programmes by 1990s, there are estimated to be 10 million SHGs in the country, covering 100 million households. Several local ground reports indicate that about 50% of these SHGs have very active women leaders trained by NGOs.
In addition, several mahila mandals have been organised with active training of women leaders in many states under such innovative programmes like Mahila Samakhya. The DWCRA programme of early 1980s led to other innovative schemes of the governments in partnership with NGOs. Much of leadership training was provided by civil society. It is estimated that nearly one million such mahila mandals are functioning in the country, with active women's leadership.
Local youth have been another focus of investing in leadership. Under NYKS programme (with government-NGO partnerships), nearly 100000 youth groups are very active with strong leadership at the village or settlement levels. Investment in youth leadership has picked up momentum in the past decade as the demographic profile of the country became prominently young. It is estimated that about half a million youth have been part of leadership programmes of several civil society.
In 2012, report of the Ministry of Statistics (Govt of India) estimated that nearly 15 million volunteers are associated with field programmes of civil society in the country. That number has substantially increased since then, as ground reports from author's extensive network indicate.
After the constitutional change making elected panchayati raj institutions mandatory across the country nearly three decades ago, six rounds of elected bodies have operated. Of the nearly 3 million elected panchayat leaders in each round throughout the country, about half are women. Civil society organisations have been working extensively in most states to build leadership capacity of women elected representatives since mid 1990s. It is estimated that a third of these 18 million panchayat representatives have received leadership training during their tenure of five years. About one million women and men each, elected to Gram Panchayats over these years, have been directly supported by civil society to gain confidence in their leadership.
Taken together, this investment of building and nurturing local community leadership by civil society over the past four decades has resulted in approximately 20 million active civic leaders in their own communities. NGOs and civil society were able to mobilise these local leaders to respond immediately to the distress caused by sudden lockdown due to pandemic.
This outreach extended as individual families and citizens acted in civic spirit to support others. Faith-based organisations also mobilised their volunteers and followers to provide immediate relief of food, water and sanitisers. Trade unions, traders associations, student groups and many others responded immediately to provide relief to families in distress.
As the spread of the virus now shifts to peri-urban and rural areas, and as millions of migrant families are feeling stranded without livelihood, these local citizen leaders continue to be active with support from the networks of civil society.
Investing in local community organisations and leadership helps strengthen social capital in villages, slums and neighbourhoods. As the country begins re-construction of economy and society, nurturing social capital will need to be essential pre-requisite for future resilience. Building and strengthening social capital through local community leadership has been the foundational contribution of Indian civil society and should be supported to continue in post-pandemic era.
…
tinyurlis.gdv.gdv.htu.nuclck.ruulvis.netshrtco.detny.im
آموزش سئو