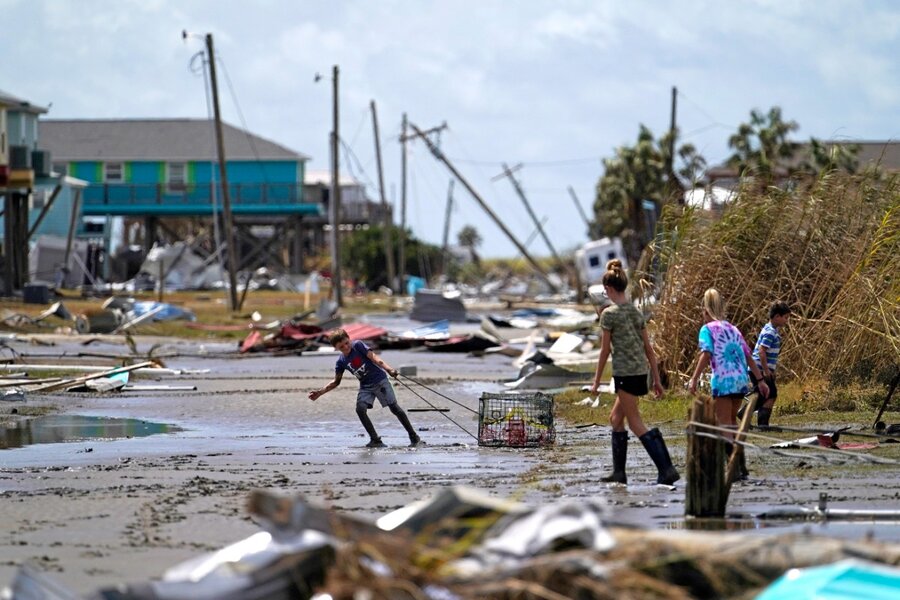 Hackberry, La.
Bradley Beard calls Hurricane Laura his third strike. But he's still not leaving.
In 2005, Rita pushed a foot of floodwaters into his white, wooden home in Hackberry, Louisiana, a tiny Cameron Parish community 15 miles (24 kilometers) from the Gulf of Mexico.
Next came Ike in 2008, which pushed water up to the floor of the long mobile home where his daughter and two granddaughters live on the same property.
Laura outstripped them both. It tore his house entirely off its foundation and dropped it a few feet away. The trailer where his daughter, Nicole, lives with her two daughters was torn apart, the walls demolished to reveal a mix of clothes, belongings, and wooden planks. About the only things still in their place were a canoe and a garbage can, tied to a steel grill buried in the ground.
A retired welder who worked at many of the refineries that dot the Louisiana coast, the 62-year-old Beard climbed through the debris, laboring with two artificial knees. After several minutes working to turn off the property's water lines, he sat on a fallen log and wiped the sweat from his brow.
"I got no other place," he said. "This is all I got."
Across Cameron Parish, the coastal parish where Hurricane Laura crashed ashore early Thursday, residents dug through what was left of their belongings, covered now-stripped roofs with tarps, and took stock of the damage.
The Category 4 storm packed 150-mph (240-kph) winds and a storm surge that Louisiana Gov. John Bel Edwards said was as high as 15 feet (4.5 meters). Louisiana officials reported two additional deaths on Sunday, bringing the total number of deaths attributed to the storm in Louisiana and Texas to 18; more than half of those were killed by carbon monoxide poisoning caused by portable generators in homes.
The deaths reported Sunday include a 57-year-old man in Calcasieu Parish who suffered a head injury after falling from a roof, the Louisiana Department of Health said. Another Calcasieu Parish resident died from carbon monoxide poisoning.
As of Sunday morning, roughly 460,000 customers were still without power, according to the Edison Electric Institute, the association of investor-owned electric companies in the U.S.
President Donald Trump visited Louisiana and Texas on Saturday to show his support and assess the damage.
Hurricane Laura led to fires at a chlorine plant in Westlake in the hard-hit Lake Charles area. On Saturday, crews were battling a new blaze, leading authorities to broaden a shelter-in-place order to 1 mile (1.6 kilometers) around the plant, state Department of Environmental Quality spokesman Greg Langley said.
It was at least the second fire at the BioLab plant, which makes swimming pool chemicals, after crews extinguished one that filled the skyline around Lake Charles with billowing black smoke after Laura hit. Authorities believe chemical reactions are causing the soaked chemicals to overheat and burst into flames.
Langley said he believed the new fire was about 90% out by Saturday afternoon.
The shelter in place means any residents of the industrial area around the plant are to stay inside with windows and doors shut, in summer heat with no electricity to power air conditioners.
In Lake Charles, a city of 80,000 residents hit head on, Mayor Nic Hunter said the National Guard would begin handing out tarps Sunday to residents so they could cover damaged roofs.
The mayor of Lake Charles has cautioned people that there is no timetable for restoring electricity and that water-treatment plants "took a beating," leaving barely a trickle of water coming out of most faucets.
Several hospitals in Calcasieu Parish and one in Cameron Parish evacuated critical patients to other facilities because of water and power issues, the state health department said. Other hospitals are operating on intermittent generator power.
Governor Edwards called Laura the most powerful hurricane to strike Louisiana, a shocking assessment in a state where Hurricane Katrina made landfall on Aug. 29, 2005. Out in western Louisiana it is the storm that came ashore a month after Katrina — Hurricane Rita — that evokes strong memories.
…