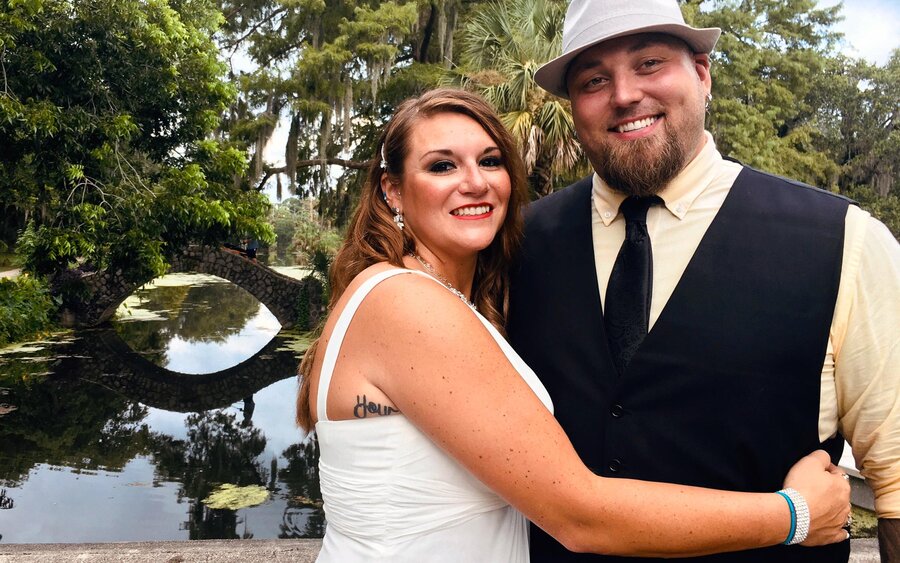 New York
If there's one thing the pandemic hasn't canceled, it's the search for love.
Throughout the health emergency, daters have taken to apps, websites, and matchmaking services in search of connection, with more meeting in person as the crisis drags on at a time when every touch is calculated and fraught.
Some daters insist on safety precautions before leaping into offline meetups. Others take no precautions, relying on mutual trust. A few are on the ultimate step, marriage.
In March, the popular dating app Hinge experienced a 30% increase over January and February in messages sent among users. In June, compared to the same month last year, there was a 13% increase in the number of dates – virtual and in person – in the United States and United Kingdom, said Logan Ury, chief researcher for the app.
Mr. Ury said the resolve to reach out amid coronavirus chaos is strong.
"Daters are feeling creative. They're feeling resilient, and they're not willing to put a year of their love life on hold because of the global pandemic," Mr. Ury said.
Look no further than Jordan and Brittany Tyler in Allegan, Michigan, as evidence of that.
Jordan, an adjunct professor of communications at Western Michigan University, and Brittany, who supervises a program for autistic youth, had both been divorced for about a year when the pandemic hit. Neither had dated online before they signed up for Match.com.
"When the lockdown happened an alert went off on my phone and it sounded liked 'The Purge' or something," Brittany laughed. "I thought, 'I'm going to die alone.'"
Both had dated their exes for several years before marrying. Not this time.
The two started texting March 18. They were wed by July after spending much of quarantine together after a romantic date March 24 at Jordan's place. He made gluten-free pasta from scratch and threw steaks on the grill. They watched the movie "P.S. I Love You" and shared a kiss less than two hours after meeting in person for the first time.
Jordan's winning line when they hopped from text to the physical world?
"I said, 'Hey, if you come have dinner with me I'm stocked up on toilet paper. I'll give you a free roll,'" he joked. "It was worth the risk."
For two New Yorkers, real-estate agent Gordon von Broock and hair colorist Alix Mane, pandemic love didn't start with a dating service. He had been her Instagram crush since late last year and the two had exchanged casual messages.
By March, he was a COVID-19 survivor. She spotted a video he put up on Instagram as he regained his strength.
"He did not look well," Ms. Mane said.
Their first Zoom date at the end of April lasted seven hours. They progressed to real life and they're now engaged.
"I've been divorced twice and have four children. If we weren't in the COVID-19 situation, knowing that Gordon had never been married, was 53 years old, and never had children would be kind of a little red flag for me. I would have been a red flag for him," she said. "But we got right to the point."
Mr. Von Broock added: "If we had met in different circumstances I would be, no way, but we had the time to really get to know each other."
Dawoon Kang, co-founder of another popular dating app, Coffee Meets Bagel, said the company's "slow dating" approach, in contrast to endless swiping, seems to appeal to users during the pandemic. The bulk of the app's users are between 25 and 39 years old.
"We're seeing an all-time chat rate," Mr. Kang said. "In mid-March, after the lockdowns, 90% plus of our daters told us they had completely stopped going on dates in person."
During brainstorming sessions with users since the pandemic began, Mr. Kang learned that many yearned for community and a way to ease their loneliness, regardless of whether that led to dates. In response, Coffee Meets Bagel added twice-weekly Zoom meetups of 50 to 100 people from late April to late June.
"Now, people are actually starting to meet up in person, but they're taking longer and being more selective since there's more at risk," she said.
…
tinyurlis.gdv.gdv.htu.nuclck.ruulvis.netshrtco.detny.im
آموزش سئو