Memes become the new popularity test for artistes as the 'fake follower' controversy around rapper Badshah blows the lid off a possible racket. Lawmakers need to wake up to this discordant note
Of the many stories I grew up listening to, this has been playing on my mind for some time now. As a moral and ethical dilemma grips the post-modern, tech-driven world of music in the country, the story of a village singer suddenly rings true.
A sangeet-visharad (master exponent of music) in a village ends a long classical music recital one evening, only to find one man sitting in the audience. Overhwelmed, the singer walks up to him and thanks him for his interest in classical music and for being the only one who appreciated his singing. The yawning "connoisseur" tells the singer he was from the shop that rented out the stage accessories. And that he was waiting for his singing to get over so that he can pack. The singer went home, crestfallen.
That was a time gone by. A time when claps and cheers and calls for an encore from the audience were measures of an artiste's popularity, determining his future. Cut to the new millennium. It now depends on whether they "like" the performance.
One may not like it, but it's all about "likes".
Yes, the pun was intended. As rapper Badshah realized it recently, accused of indulging in a "crime" that was unheard of – "buying likes," in an apparent bid to boost his popularity.
And, it's no more the proverbial eggs and tomatoes being hurled on stage for a bad performance. It's the memes – searing, scathing and unforgiving — that begin to float online, on every social media platform, retweeted and shared a million times, which have the power to pull an artiste down.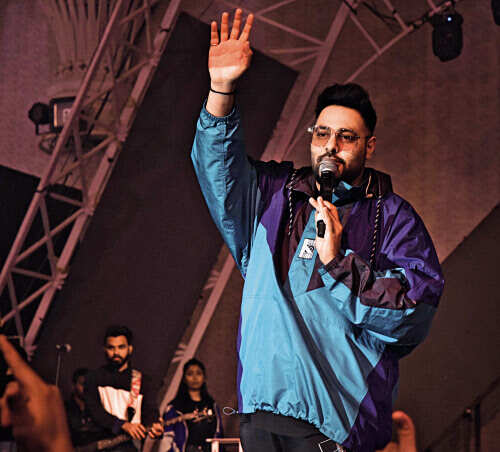 Why is Badshah facing the music?
On August 8, Mumbai Mirror reported that the rapper paid a company Rs 72 lakh in exchange of 72 million fake views for his 2019 song 'Paagal'. The song registered 75 million views in 24 hours when it released last year.
On August 9, Badshah was questioned by Mumbai Police for over nine hours in connection with a probe into a possible racket in creating and selling fake social media 'followers,' 'views' and 'likes'. Police began the probe after singer Bhumi Trivedi complained that someone had created her fake profile on social media. While probing this, police unearthed a racket which creates fake social media profiles and sells fake followers and likes to celebrities and social media influencers.
The reason? A celebrity or social media influencer can command a higher price for online brand endorsement if he or she has a larger number of followers and likes.
Mumbai Police officials said at least 54 cyber firms that create and sell fake followers are now under the scanner.
The meme-lash
Though Badshah denied the allegations and said "… (I have) made it clear that I was never involved in such practices," a tsunami of memes swept cyberspace as soon as the rapper was questioned by the police.
Using a scene from 'Sacred Games', one of the memes said: "#Badshah bought 7.2 crore views for 72 lakhs. His fans asking him why he did that." To this, the meme-maker quotes a dialogue by Nawazuddin Siddique who played gangster Ganesh Gaitonde: Apun ko zindagi mai kuch daring karna thha.
Another meme said "#Badshah to everyone rn:" and used screenshot of a scene from a film where Pankaj Tripathi tells a neighbour: Dukaan jama raha thha, aap log aake berozgar kar diye.
A meme had Sanjay Dutt from 'Munnabhai MBBS' with the line: "#Badshah after buying fake views on YouTube" and used his dialogue: Haan apun cheating kiya. Tere ko jo karna hai karle.
Meme-makers also used punchlines of stand-up comedians. One such meme said: "Badshah after promoting his songs and increasing his followers by spending 72 lakh rupees on social media, and getting caught: BC itnaa NAAM bhi nahi krna tha."
Using a photo of a huge stadium stand with just one spectator, a memer captioned it "his followers," after these lines – "#Badshah: I'm the most followed Indian singer of Instagram."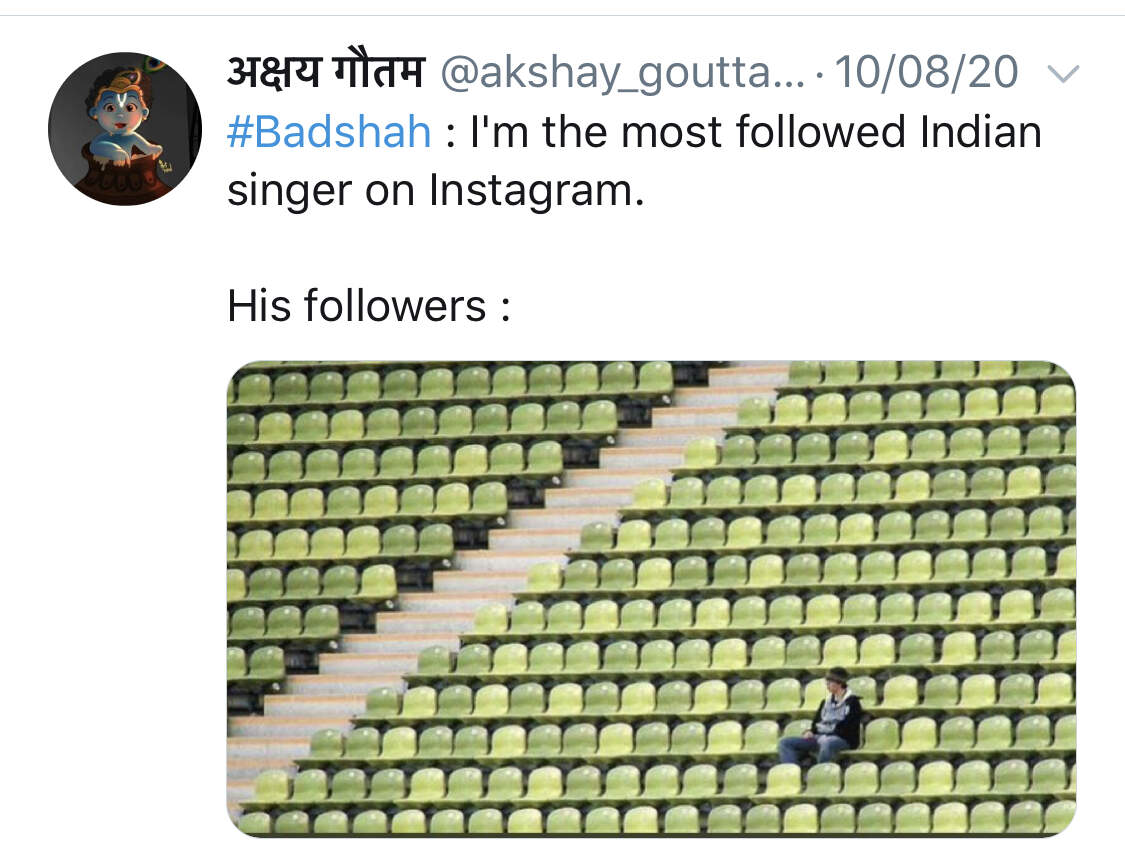 Is there a law?
For the police and India's legal fraternity, it was a puzzle as they tried to determine criminality of the act. While Bhumi Trivedi's case involved creation of fake profile of the singer — thereby making it a case of impersonation, a criminal offence – there may not be a specific law to deal with cases involving buying and selling of fake likes and followers.
Supreme Court advocate and cyber law expert Karnika Seth told a newspaper: "Since a fake account is an electronic record that can be used to misrepresent, one could book a person." Seth was referring to Section 468 of the Indian Penal Code, which deals with committing forgery of a document or electronic record for cheating.
Cyber expert Vicky Shah, however, told the newspaper that proving such a case in a court of law would be difficult, while cyber lawyer Pawan Duggal felt there is a policy vacuum, and a need for legal provisions to deal with this issue.
"It becomes problematic when an influencer or celebrity attracts brands based on their fan following, which determines the revenues payable to the influencer. If such fan following is not organically grown, then it can amount to being illegal and unethical," Chandrima Mitra, partner at DSK Legal, told a newspaper.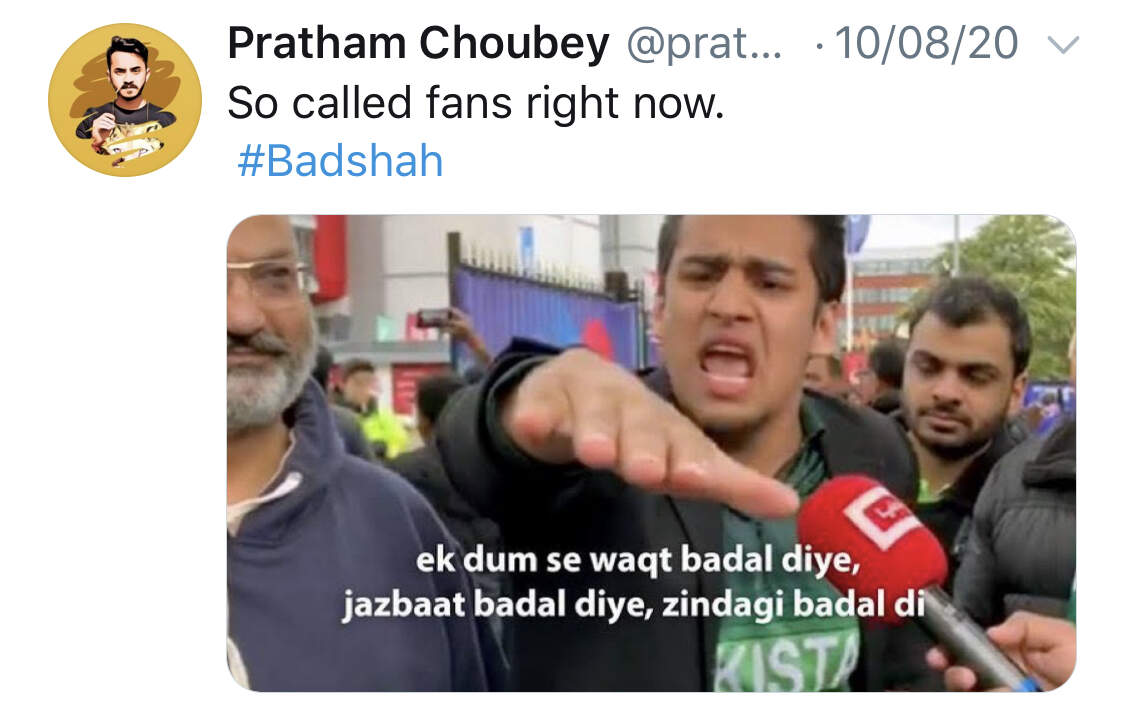 When Singapore brought a law
Last year, the Singapore government notified the Protection from Online Falsehoods and Manipulation Act.
The Act includes measures to detect, control and safeguard against co-ordinated misuse of online accounts pf people and bots.
In the US, the New York state attorney general Letitia James last year announced a settlement over the sale of fake followers, likes and views on social media platforms, including Twitter and YouTube, using fake activity from false accounts, setting a precedent.
Even politicians waded into the controversy, with Maharashtra home minister Anil Deshmukh saying that a number of PR agencies provide "fake" social media followers to Bollywood personalities and other "big people", which are then used for trolling or data theft.
"Several PR agencies provide fake followers, called bots, to Bollywood celebrities or some other big people. Such bots are not only used in gaining publicity but also for trolling or data theft. The Maharashtra Police will probe the matter," Deshmukh had said in a video message.
Mumbai Police Commissioner Param Bir Singh then formed a Special Investigation Team to probe the illegal aspects of social media marketing businesses operating in violation of the IT Act. A young civil engineer was arrested in Mumbai for allegedly selling fake followers. Police said he has sold 2.3 crore fake followers.
How the lid was blown
When singer Bhumi Trivedi stumbled upon a fake social media page being run using her name and asked Mumbai Police for help, sleuths found chat logs of a fake Instagram account created in her name. They also found a chat thread that tried to portray an apparent negotiation where Trivedi is trying to purchase fake followers. This fake chat thread was used by a person to lure more people to purchase followers.
Police said the person they arrested revealed during investigation that he is part of a racket to create crores of fake identities on various social media platforms to generate fake performance statistics like followers, comments and views. The motive? To inflate performance statistics of influencers so they can command a higher value for promoting brands on their handles.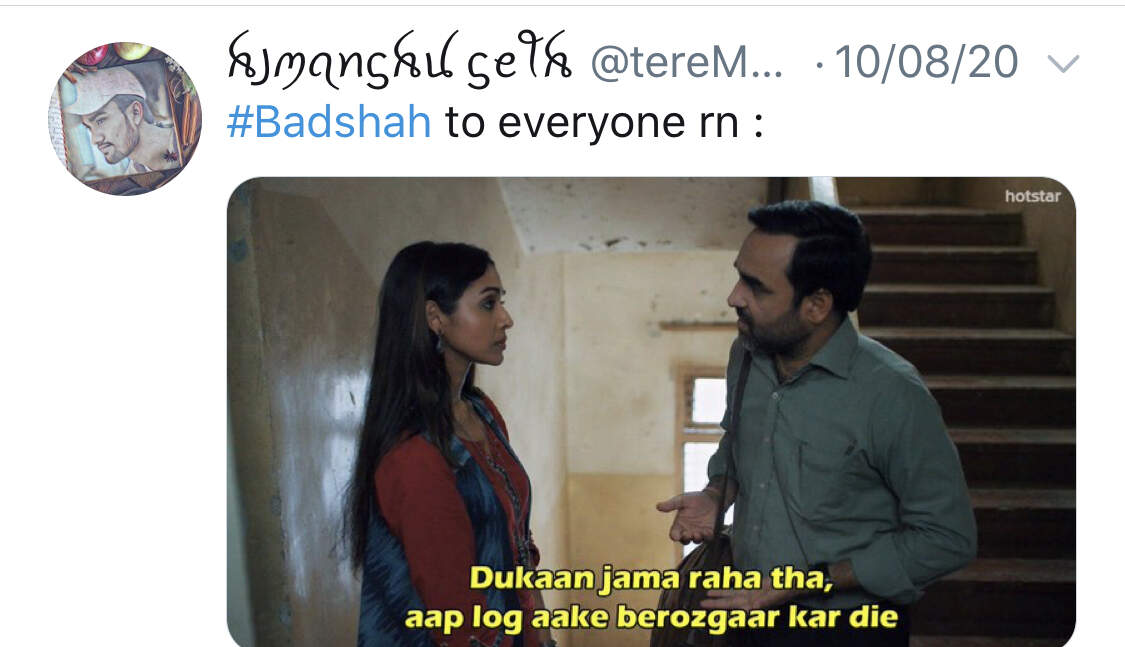 How big is the fraud?
Research by Swedish e-commerce start-up A Good Company and analytics firm HypeAuditor, that assessed 1.84 million Instagram accounts across 82 countries last year, had found that the top three markets with the largest number of fake accounts were the US (49 million), Brazil (27 million), and India (16 million). The researchers spoke to around 400 influencers, 60 per cent of whom confirmed that they had bought followers, likes, or comments at some point.
Apart from social media influencers, services of these fake accounts or bots (software application that imitates human behaviour) are also suspected to be used by political parties, celebrities, and in film promotions.
These companies use fake accounts to start trending a particular hashtag, for example a movie's name before a release date.
It's ain't just Badshah
Time will tell if Badshah is guilty or not, but the case blew the lid off one of Indian music industry's worst kept secrets in modern times – practice of buying fake views, likes and subscribers on streaming services and social media platforms. It has led the police into the murky world of "bots" and "server farms."
Now, these are the allegations police are looking into as a part of a bigger investigation into what they call "social media marketing fraud."
But, those in the know say this is a common practice. It has spawned a global industry that manipulates the algorithm and inflates social media metrics using bots and click farms (digital sweat shops where workers are paid to simulate authentic clicks or views).
The world has seen this before — Lady Gaga's videos is said to have got stripped of a combined total of over 150 million views and the act was seen as a clean-up of bot-generated views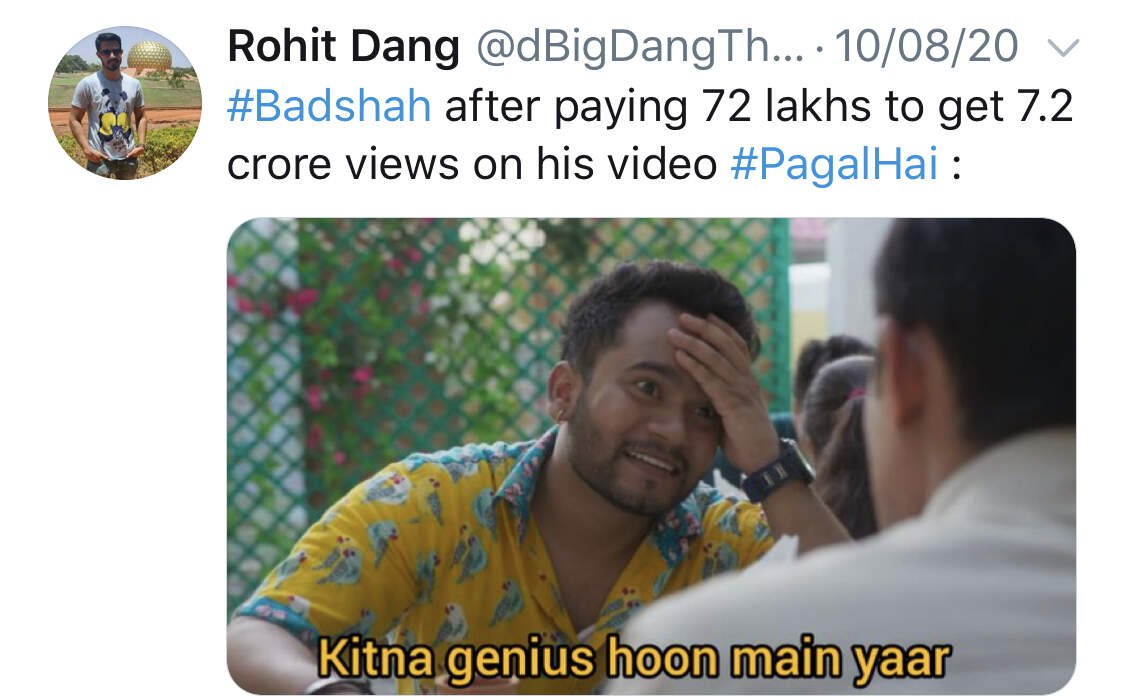 When numbers matter
Many websites advertise easy ways to gain views and followers, some as low as Rs 100 for a 1,000 views. Experts say number of views not only projects how popular a video is but also impacts search result rankings and recommendations. They can give a video a quick visibility boost, in comparison to one getting organic views. They also come in as a major factor while negotiating brand endorsement deals.
"We are going through a strange phase in art where it is not just enough for an independent artist to be great at his or her craft. He or she needs to be a great social media marketer as well. Some artists are able to de-prioritize vanity in metrics and some live and die by it," Karthik Nagarajan, chief content officer at media agency Wavemaker India, told a newspaper.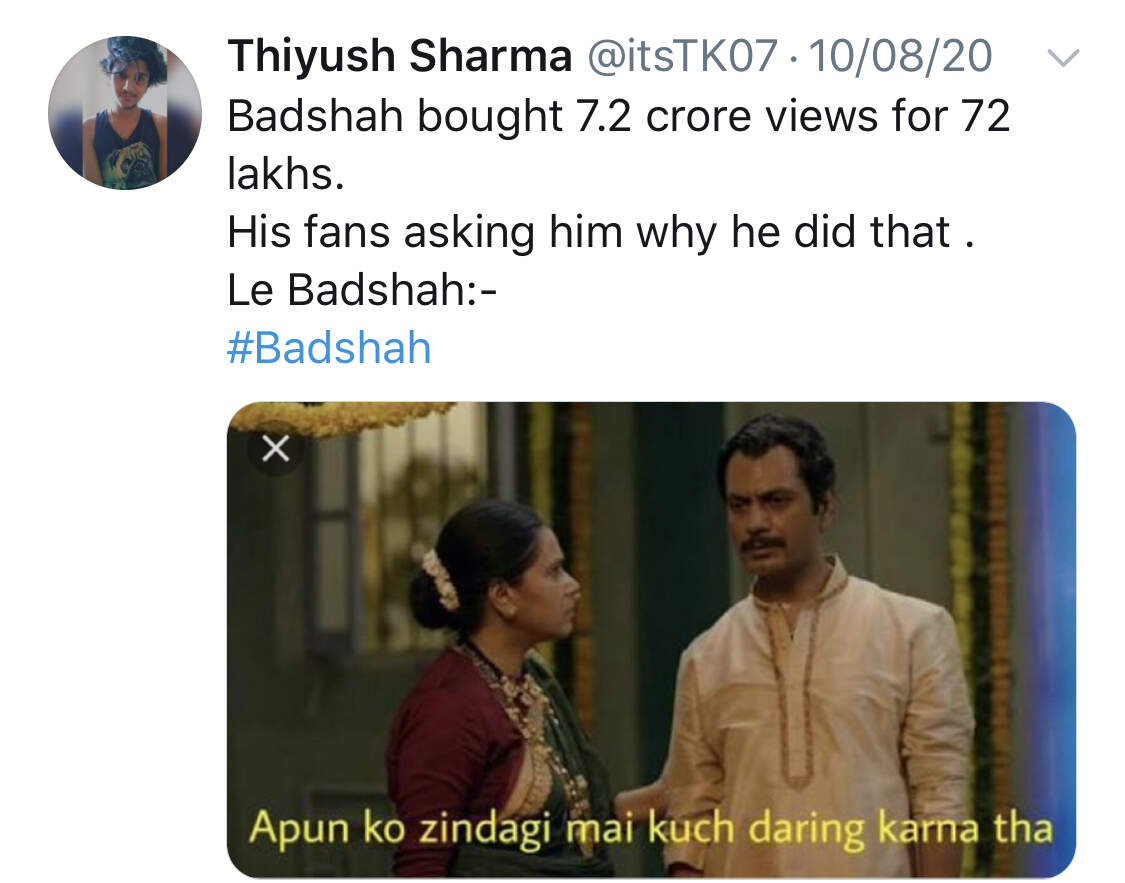 'Who will police social media manipulation industry'
An article in New York Times last year quoted researchers from the NATO Strategic Communications Center of Excellence saying that many social media companies are "poorly policing automated bots and other methods for manipulating social media platform." The group is an independent organization that advises the North Atlantic Treaty Organization.
With a small amount of money, the researchers found that virtually anyone can hire a company to get more likes, comments and clicks, the article said. "We spend so much time thinking about how to regulate social media companies — but not so much about how to regulate the social media manipulation industry," said Sebastian Bay, one of the researchers who worked on the report.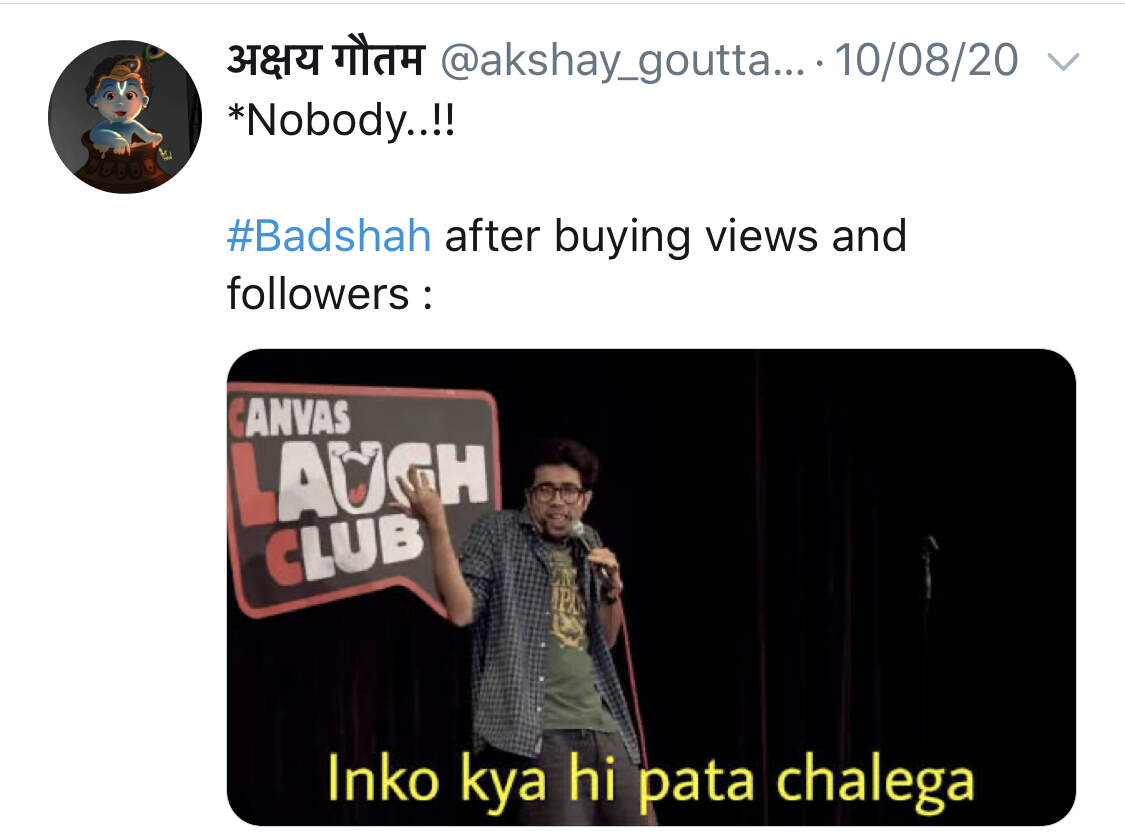 Influencer marketing in trouble
The phenomenon of fake influencers — users who have gained popularity on the back of fake followers — is not new. But it gains importance as influencer marketing industry becomes a fast growing category in the Rs 14,000 crore digital advertising space. This is revealed by advertisers including PepsiCo, Under Armour, Lava, Sugar Cosmetics and upGrad, says an Economic Times report.
The rapid growth has brought to fore other issues like focus on reach instead of impact, lack of standards and mismatch between product and influencers.
As the menace grows, some agencies are now offering technology to help identify fake profiles and bots used to skew results. Many have developed tools to help companies find the right influencers to endorse their products by inspiring their followers.
The ET report estimates that tech and gadget companies spend more than Rs 10 crore a year on influencer outreach campaigns. The Badshah episode has many lessons for them. What the influencer industry needs now are standardised pricing, measurable impact for campaigns, tech-led influencer selection, creators trained to be professionals, contracts between agency and creators and eliminate of mismatch between products and influencers, said the ET report.
Need for a law
As legal experts and law enforcing agencies grapple with the steadily-enfolding enormity of the issue, they are left with vexing questions – Is this illegal? If yes, how to establish criminality? Which law to be used to hold a person buying followers and likes accountable?
Buying likes or followers may be deemed an offence when it leads to unfair trade practices as it ensures there is no level playing field. If there are two singers of almost the same calibre, and one of them resorts to buying likes, views and followers that help inflate his brand value to get him benefits like more live performances or more brand endorsements, the one who does not loses out.
And it's not just in the field of music. The menace has its tentacles spread in the political arena too. Experts have pointed out that influencers – who express opinion on social media platforms in the political and social spheres – can get the power to influence and sway public opinion towards one ideology. It can also influence policy by turning virtual pressure groups.
For example, if a person voices his opinion for or against a hotly-debated issue – say a political movement or a development project that may harm environment or a gender issue — people would tend to believe him if his follower base is large.
For India's policy-framers and law-makers, it is no more a mere song-and-dance. It is time now to introspect and frame policies and laws to regulate this growing menace before it no longer remains sweet music and turns into a note of discord.
DISCLAIMER : Views expressed above are the author's own.
tinyurlis.gdv.gdv.htu.nuclck.ruulvis.netshrtco.detny.im
آموزش سئو