On Thursday, hundreds of thousands of British students woke up to receive their A-Level results (the equivalent of 12th standard results in India). As always, it's a day that is greeted with much trepidation; many skip away happily into their future while others, sadly, are left in tears to dwell on the uncertainty of their fate. However, has the fallout from the Corona pandemic (yup, that again) exposed problems with the current system of yearly testing? Do annual exams prepare students for real life?
The 2020 academic year has been like no other in living memory. Due to Corona, students were not able to sit their final exams. Instead, Ofqual (the UK Government's regulator for examinations and testing) applied an algorithm to produce "calculated" grades for each student. The result is that almost 40% of students received grades below their expectations. This means that a great many students will not attend their preferred university or worse still abandon higher education altogether. A heartbreaking situation for such students and their families. A huge potential loss for society.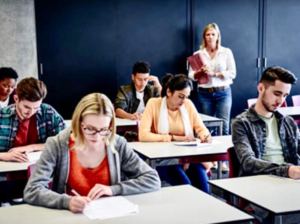 It's been a rollercoaster year from start to finish. First students have had to spend their final school year largely at home. Then the exams that they'd been working toward for the last several years were canceled. Now they are being awarded grades that they've had no control over. Their futures have been quite literally taken out of their hands.
In fairness, given the lockdown, the government's approach wasn't totally illogical. The way I understand it, the Ofqual algorithm splices together the predicted grades for each student, as submitted by their schools and the overall historical success rate for each student's school. All other things being equal, in this way the regulator hoped to minimize teacher bias and produce reasonably realistic grades.
Unfortunately, that's where the problems begin. For example, what if you are an A-grade student at a school that averages C? What if you are a student who performs particularly well in final exams? It's a conundrum for sure and any attempt to calculate grades using a black box was always going to raise more questions than provide answers. In hindsight, the government could've saved itself a lot of headache by trusting teachers and just going with the predicted grades. The old adage, "keep it simple stupid" comes to mind.
Moreover, in tying the individual grades to schools performance history the government has introduced a social class and race bias into the process as schools in poorer, inner-city areas with large immigrant populations are likely to be the laggards. The algorithm should have been weight-adjusted for such factors. Yet Boris Johnson seems more than content that Ofqual has delivered a "robust set of grades". Quelle surprise, a rich Etonian endorsing a selection methodology that "inadvertently" favours private schools like his alma mater. How could he comprehend the value of education to those trying to climb out of poverty?
Johnson has suggested that those students who feel particularly aggrieved can appeal or even re-sit papers in the autumn. However, with growing fears of a second wave of Covid-19, what if we are still in lockdown in autumn? Or next year? It may be years before we can ensure a regular schedule of supervised exams. Do we conduct exams through Zoom or via some form of optical surveillance?
This whole unfortunate situation has raised some fundamental questions about annual evaluations. In my humble opinion, yearly tests don't prepare students for real work life. In the adult world, success in one's career is not measured in discrete moments of time, once or twice a year. Adults are expected to satisfy work targets on a daily basis, continually having to deliver.
Furthermore, in today's world, children don't organize information in their heads in the same way that we used to before the advent of the web; they search, select, and discard after use. There's no need for students to cram tons of useless facts into their brains which is what exam prep forces them to do. Indeed, success in exams is often more about good technique and memorization than a sign of true knowledge and competence.
Instead, continual assessment, a "form of education that evaluates the student's progress throughout a prescribed course" (Wikipedia) through frequent but smaller tests, would remove the reliance on annual exams and help avoid the precise predicament we are in now. It would provide a) early and continuous indicators of student performance; b) encourage the consistency of effort and performance from students (that would be expected from them in later life) as well as from teachers; and c) inculcate a sense of inclusiveness by moving beyond the world of just pass or fail.
The universities that A-Level students aspire to attend are having an existential crisis of their own. Foreign students have pretty much been bankrolling UK higher education for decades. To get around Corona related safety and travel restrictions, many of the top universities are considering a switch to remote learning for a bulk of their courses but without the allure of the British student experience (a pint of warm beer and a pack of stale crisps an all), I can't see why rich Asian kids would pay up for a British degree certificate. The degree system, which has been going since the time of the Crusades, needs to be revamped too but that's a whole other conversation.
So UK universities will have to either change their demographics by altering their entry requirements and fee structures or shrink. This will most definitely have a knock-on impact on how students will be assessed in secondary (high) schools.
The raging storm around this year's grades shows no sign of dissipating. Politically this may become an even bigger nightmare for the government than it's poor handling of either Covid-19 or Brexit. Under public pressure, Scotland has already announced that it will pull the calculated grades and use the predicted grades submitted by schools. It looks like England may capitulate and follow suit after briefly entertaining the idea of using mock exam results (which got thrown out due to zero consistency in how mocks were conducted from school to school). I hope Mr. Johnson relishes the taste of humble pie.
Without a doubt, like all things, it's complicated. Education is not merely about getting a job. True all-round individual development is about acquiring knowledge, reasoning skills, emotional intelligence, and a sense of civic duty. It's about pushing boundaries by promoting natural curiosity. A truly enlightened society will hopefully be a more just society.
As the angry, pitchfork mob marches toward No. 10 and Covid continues to define the new norm, the government, schools, and universities had better get their acts together PDQ or August 2021 is going to feel like groundhog day.
DISCLAIMER : Views expressed above are the author's own.